In 2017, Facebook's data centers alone produced more than 600,000 metric tons of carbon dioxide. This year, the company is making big moves toward a smaller carbon footprint. On Tuesday, Facebook pledged to be on 100% renewable energy in the next two years, the second announcement in about a month to help cut down the company's environmental impact. In July, Facebook announced a partnership with Pacific Power—an electric company in Oregon, one of several states where Facebook's data centers are housed—to support the development of renewable resources.
Of course, Facebook isn't alone in the fight. Earlier this year, Samsung made the same pledge to run completely on renewable energy by 2020, and Apple, among others, says it's already met this massive milestone. Even smaller—yet sizable—companies like Proterra are making progress. Since its founding in 2004, the zero-emission vehicle maker has developed an efficient, battery-electric bus, raising more than $470 million in support of the effort. Last week, it was selected by the state of Georgia to supply buses and charging stations for the state's public transportation needs. A big win toward cleaner air for all.
But in the fight to make green by going green, younger companies are still up against a disproportionate struggle. VC funding to early-stage cleantech startups has slowed greatly in recent years.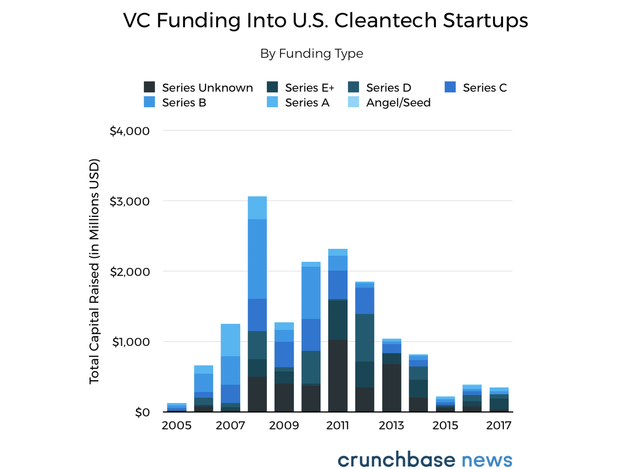 "Between 2007 and 2010, the period when federal subsidies for renewable energy skyrocketed from $5.1 billion to $14.7 billion per year, more early-stage VC rounds emerged," reads a 2017 Crunchbase report. "It seems likely that governmental support could have given the VC community confidence that cleantech could disrupt the energy sector. However, after 2012, VC funding sharply declined and has not rebounded ever since." State contracts, like Proterra's, are one area of support for promising ideas, but hard to come by. Pending legislation, like California's SB 100, has the potential to bring whole states closer to ending their reliance on fossil fuels, creating more space for cleantech startups to thrive.
Legislation will not, however, help those startups find the initial funding they need to launch. With high upfront capital needs and longer R&D cycles than some industries, many investors are simply not willing to take the risk. Many others are, though, whether it be through angel investment, alternative lending, grants or other means, to support the brighter future that emerging cleantech companies represent. Not only will they be able to build businesses that pledge small carbon footprints from the beginning—rather than only after they've grown to the size of the Googles among us—but they'll be able to develop smart energy practices that can support and advance the businesses around them.
Check out 20 cleantech startups to watch
Source  Angel.co
Keep visiting our blog for more updates. have a nice day ahead.